Investor Relations
Global Ship Lease (GSL) is a containership lessor, publicly traded since 15th August 2008 on the New York Stock Exchange - ticker: GSL.

We are a Marshall Islands Corporation with administrative offices in London. We own a fleet of high quality, well-maintained containerships that are leased out under fixed-rate time charters.
On October 29, 2018, Global Ship Lease announced a strategic combination with Poseidon Containers in a stock-for-stock transaction that will double the size of the Company's fleet of mid-sized and smaller containerships and increase the asset base to over $1.2 billion on a charter-adjusted basis, while introducing latest-generation vessel designs, reducing the fleet age, diversifying the charterer portfolio, and reducing leverage. For additional details, see the press release issued on Oct. 29, 2018.
Recent Releases
Stock Chart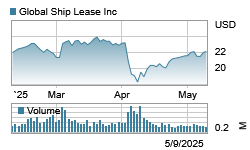 Stock Chart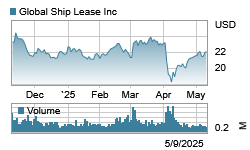 Stock Chart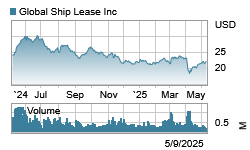 Stock Quote
Global Ship Lease
Price:
Change:
Day High:
Day Low:
Volume:
Copyright West LLC. Minimum 15 minutes delayed.